Mental health in Kenya – an interview with Iregi Mwenja
---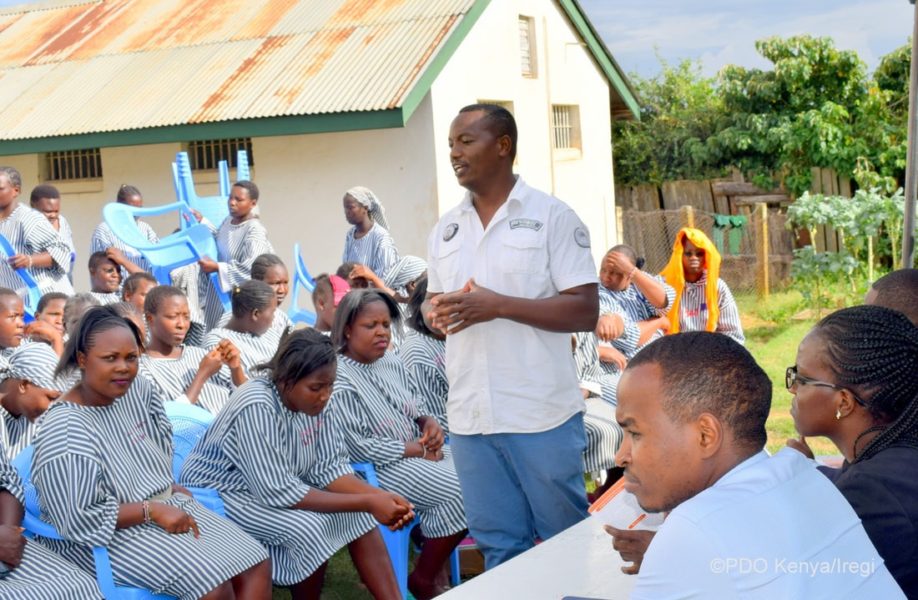 In Nakuru County, Kenya, approximately 80% of people living with a mental health condition do not access the treatment or services they need. PDO is one organisation trying to change that. They provide free support to people living with mental illness in Nakuru, focusing particularly on marginalised communities such as prisoners and those who have HIV. Their aim is to promote mental health awareness, reduce stigma, and assist people with mental illness in leading a more productive and autonomous life. They also aspire to promote mental wellbeing through preventive strategies and a range of programmes and activities, including talk therapy in prisons, hiking and online psychiatric care. They train volunteers to deliver such initiatives.
PDO is one of the grassroots innovators that Ember works with. I was fascinated by the project so I decided to interview Iregi Mwenja, the founder of PDO, to find out more.
To understand their work, I felt that it was important to find out about the contextual factors of living in Kenya with mental health issues.
"People who suffer from these issues, such as depression, are often unaware that they have a mental health problem. This may be due to the stigma surrounding such ideas. Physical health issues are often accepted and treated with respect, yet it is a different story when it comes to mental health. People associate mental health issues with demons or witchcraft, believing that it is not a medical condition but a curse. This can have negative consequences for those with such issues, for example being fired from their jobs on the basis of ill mental health."
Iregi himself grew up with ADHD and faced the impact of such stigma. He felt that his family and friends negatively impacted on his mental health through the way that they treated him due to having ADHD.
"Psychoeducation for my family and teachers would have been really beneficial as if could have changed the way that they treated me. This could have changed my childhood."
However, support is extremely limited. He, like many other people in Kenya, had no access to such treatment. This is what PDO aim to change, which is a difficult task due to the lack of understanding and knowledge about the topic. Although he cannot go back and alter his childhood experience, Iregi can change other people's lives through this organisation. One of the core values of PDO is integrity, which Iregi discussed in terms of honesty.
"It is vital for those with mental health issues to have someone to talk to that they can trust."
This demonstrates the importance of the work that PDO does, as there is lack of understanding and discrimination in terms of mental health. The project uses volunteers who live with a mental illness themselves, as well as professional psychotherapists. I was curious about why the choice was made to recruit those who have mental health issues themselves. According to Iregi
"People with lived experience are often more passionate and motivated than anyone else would be to help those with similar experiences. These volunteers may have gone through unnecessary suffering, and interventions like this could have helped them."
Iregi believes that PDO is unique because the model can run on quite small amounts of funding, meaning they are able to provide crucial care even with minimal resources. Considering this and the prejudice towards those with mental health issues, it is amazing that the charity has reached so many people and created such an impact. There are some patients that they have worked with for over three years, demonstrating that the services are sustainable. There are over 200 volunteers and over 24 professional staff, including two visiting psychiatrists. PDO's work in the community is important because some people are unable to travel to receive help due to the location, or they are not in a mentally stable position to do so.
Since Iregi has worked with so many people, I wondered if there were any particular cases that stayed in his mind. Although everyone he has met through PDO is unique, he vividly remembers a common pattern of two young women with severe depression.
"When both of them, individually, arrived to our facility, they could barely speak about anything, and just managed to say 'I'm not okay'. They also initially lacked the energy to go to sessions that would have been helpful for them. For them, life had lost meaning and their motivation to live was at its lowest. After just a few weeks, they were thanking PDO for the help that they had received – something which seemed impossible at first."
Iregi seems touched that people who lost hope could be guided through PDO's services. He believes that this is 'not even touching the tip of the iceberg': many more people in Kenya suffer from mental ill-health and do not receive support. However, it is important to recognise the huge positive impact that PDO, even with a small team and very low resources, has already made.
Overall, my talk with Iregi highlighted the wide range of ways that PDO helps vulnerable people, often experiencing similar situations to what he experienced in his youth. It revealed how central empathy is to the work that PDO does, providing care from a place of recognition and respect for the hardships that individuals and communities face in relation to their mental health. Ember values supporting grassroots organisations because of their potential to make a real difference to people's lives. This is evident in the current success of PDO.