Collaboration for change in mental health: MHSUA Ethiopia convenes its first stakeholders' meeting
---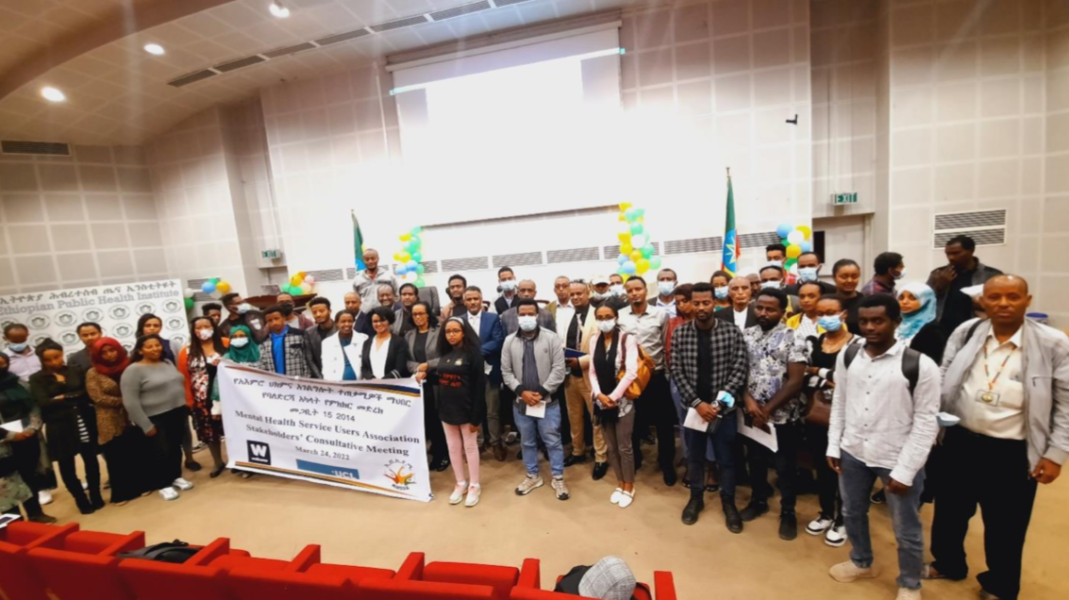 Mental Health Service Users Association (MHSUA), founded in 2018, have become key players in Ethiopia's mental health system, advocating for the voices of lived experience to be taken seriously in policy, legislation and service delivery. But until very recently, they were not recognised by other major stakeholders, apart from the Mental Health Case Team of the Ministry of Health and the Addis Ababa University Psychiatry Department.
In March 2022, MHSUA held an event bringing a variety of high profile mental health stakeholders together to highlight their work, showcase the value of input from those with lived experience of mental illness, and spark commitments for collaboration among those who want to create largescale and lasting positive change in Ethiopia's mental health system. You can find the detailed report here.
Keynote Address: Ministry of Health commends MHSUA's role in fighting stigma and discrimination of service users in Ethiopia

The event started with a keynote address by Dr Dereje Assefa, Team Leader of the Mental Health Case Team at the Ministry of Health, who commended the devoted participation of MHSUA with Ministry of Health to fight against stigma and discrimination of service users in Ethiopia. He highlighted the alarming fact that 90% of persons with mental health conditions in Ethiopia don't get the medical help they need and deserve, and called on other attendees to support civil societies like MHSUA so they can play their fundamental role in the mental health system.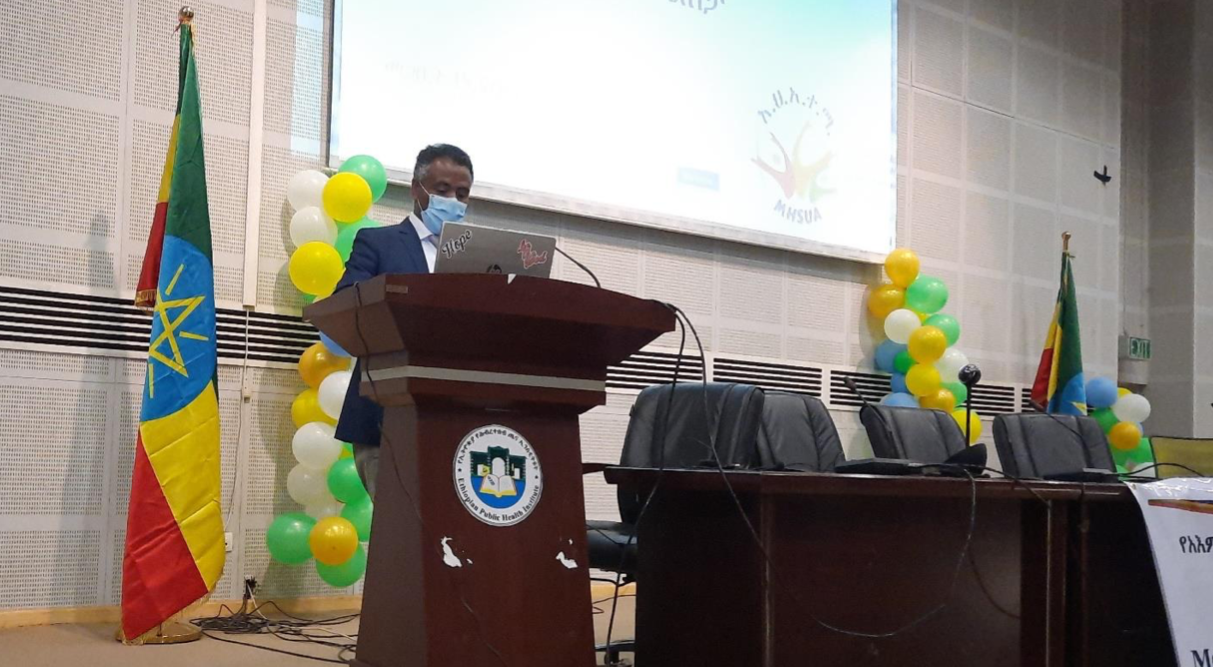 "We need to involve service users and their organisations in contributing to create more effective and accountable policies, laws and services for mental health, identifying community needs and appropriate intervention and fighting stigma and discrimination."
He then discussed how the 1993 Health Policy, the Health Sector Development Plan highlighted this treatment gap in mental health delivery in Ethiopia, which led to the designing of the first National Mental Health Strategic Plan. This was revised, and the second Strategic Plan for 2020-2025 came into being. He emphasised how, to successfully implement this roadmap, the Ministry of Health will work with stakeholders and play a leading role in making treatment, care, support and rehabilitation services accessible, affordable and equitable, strengthening the research, information, M&E systems, leadership and governance for mental health, securing adequate financial resources, accelerating the development of human resources for mental health and ensuring a sustainable supply of pharmaceutical and technological supplies.
President Eleni shares challenges faced while starting MHSUA
Eleni Misganaw, President of MHSUA, spoke next, sharing the story of the genesis of the organisation and the challenges which were faced by the founding members during its inception. The MHSUA was founded by five service users, gathered by a local non-profit - Ethiopian Mental Health Society.
"The registration process took nine months as the founding members were asked to provide a certificate from their respective psychiatrists certifying they are in remission, in order to run such a formal association. This demonstrates the stigma against mental illness, which is also institutional."
She further highlighted how members of the Executive Committee of MHSUA have held around 24 regular meetings and 1 urgent one, and for the longest time, these were held in cafes as they struggled to find an office space.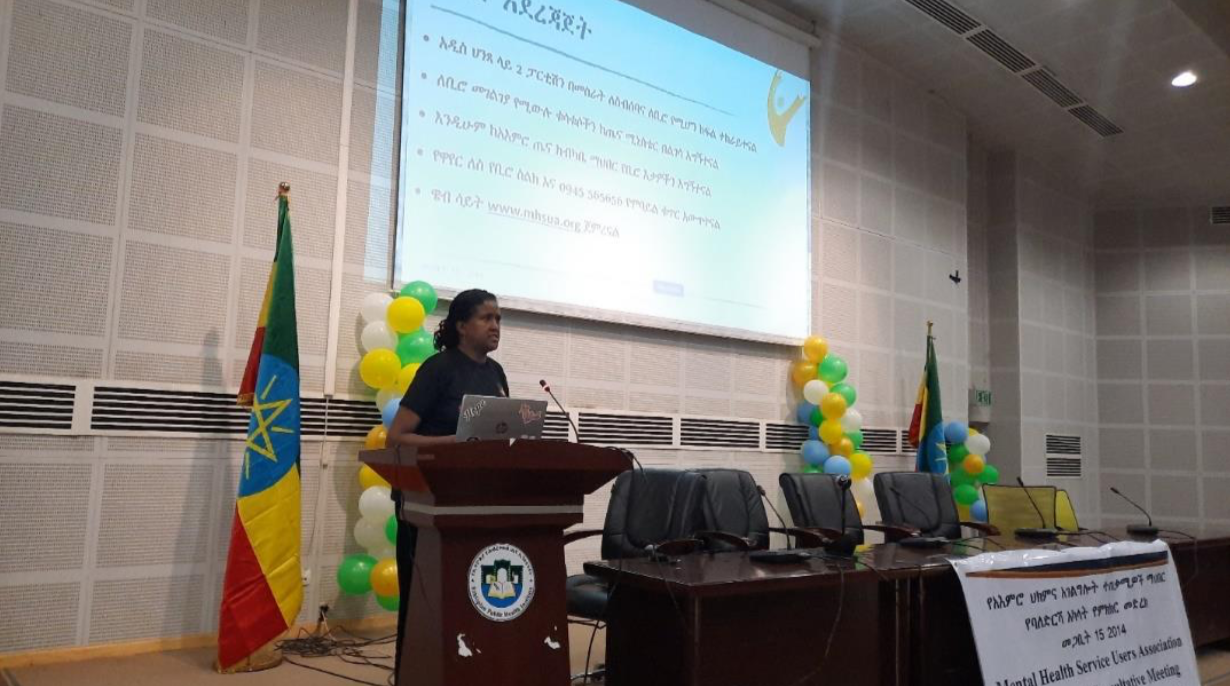 Panel Discussion: Stigma & Discrimination
This was followed by a panel discussion on stigma and discrimination, featuring Dr Dawit Assefa (Consultant Psychiatrist at Eka Kotebe Hospital), Mrs Meaza Menker ( Clinical Psychologist), Gash Nigussie Bulcha (Pastor), Abba Gedion Birhane (Instructor at Saint Trinity University), Haji Nuredin Jemal (Ethiopian Islamic Affairs Counsil), moderated by Dr Yonas Bahiretibeb (Addis Ababa University).
"The person should also be separated from the illness. The person is not the illness but they are a person with mental illness. We need to recognise the full dignity of the person first."
The discussion revolved around how in Ethiopia, besides social, economic and political factors, spiritual factors and religion also affect mental health, highlighting that a comprehensive approach, incorporating a referral pathway between spiritual places, religious service providers and medical treatments should be developed and strengthened to address mental health issues. Awareness among youth to grasp mental health issues at an early age and family as support structures were some of the other topics discussed.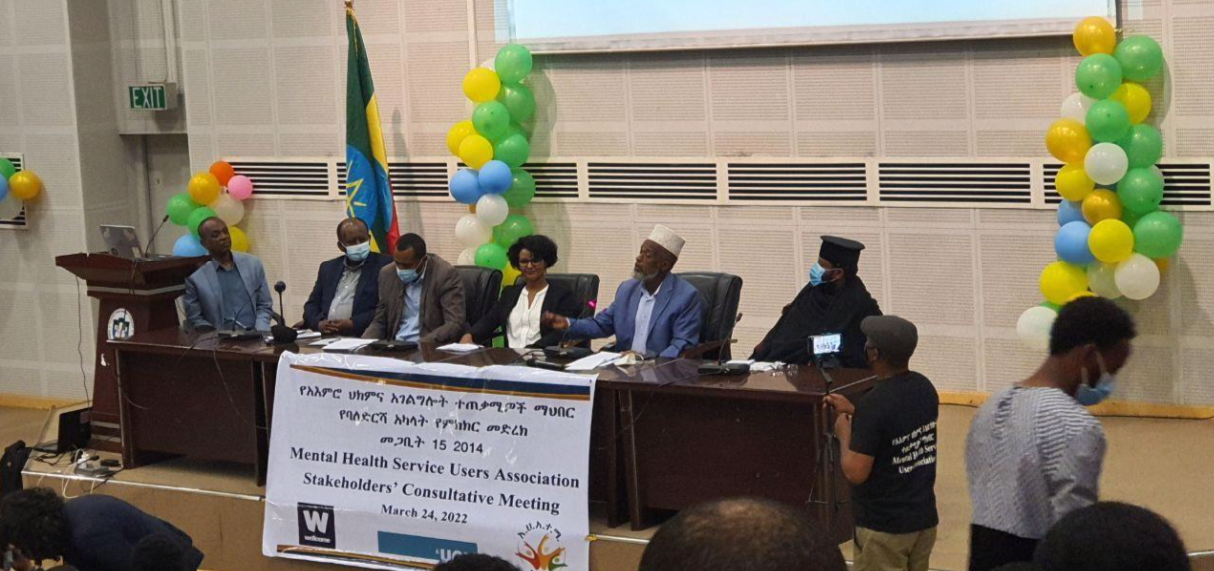 Concluding Remarks

Dr Sisay Abayneh presented the findings of his PhD dissertation on the role of service users and their care-givers in strengthening the mental health system. Mr Lemma Ayele from Mathewos Wondu Ethiopian Cancer Society shared their experience on the power of patient-focused organisations. The meeting was then concluded by Professor Atalay Alem, who hosted an interactive session with the participants on the best ways to raise awareness about mental health in Ethiopia and how it requires a coordinated effort to bring change in the sector.
"No one is immune from mental illness. This is a condition that can knock on our doors at any time."
If you would like to support MHSUA to amplify their work, you can connect with them here. To stay updated about their recent activities, you can follow them here on Twitter and here on LinkedIn.