COVID-19 Stories of Change: CMC, Nepal
---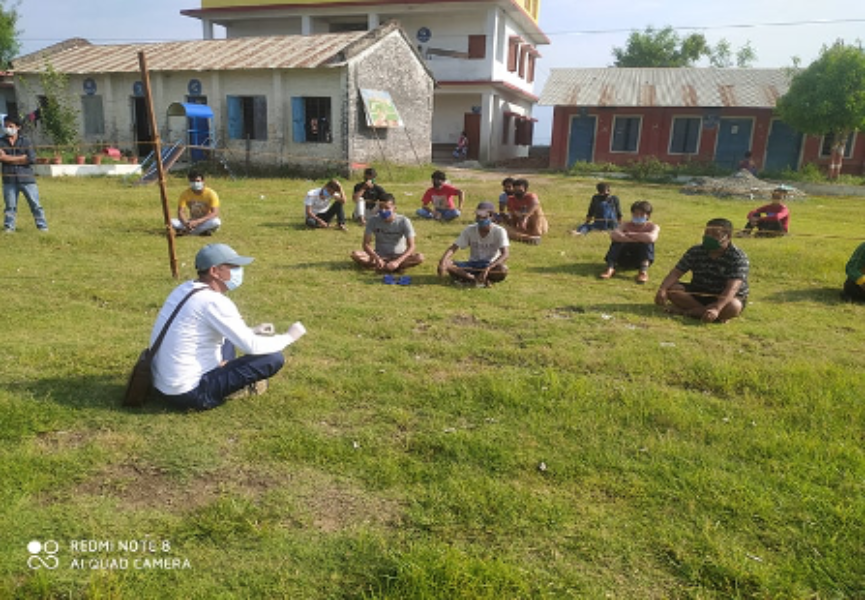 These are testing times for the mental health projects we are working with. Each has had to think quickly, adapt & overcome challenges due to COVID-19. Each has had a unique journey, which we're going to share them through our COVID-19 Stories of Change series.
The Centre for Mental Health and Counselling – Nepal (CMC-Nepal) is a non-governmental organisation working in close collaboration with the government to strengthen human resources in mental health and psychosocial counselling and provide mental health and psychosocial (MHPSS) services to the community.
What were the greatest challenges?
Due to the COVID-19 pandemic, all regular activities provided by the organisation had to be suspended and the team's focus became fully directed at providing services that addressed the impact of COVID-19 on mental health. Despite the widespread transmission of the virus, very few organisations in Nepal have been at the forefront of the response, making it very difficult to reach all those affected and to address the high demand of MHPSS in the community.
Further, a lack of coordination between government systems, a shortage of human resources in quarantine centres and restrictions on travel and public transport, have made responding and adapting to the COVID-19 pandemic rather challenging for CMC-Nepal.

How have they adapted?
Nonetheless, the team has been able to resourcefully adapt to the circumstances. The first step taken was to contact funding partners to inform them that regular activities would be stopped and that priorities had shifted to respond to the stark mental health needs caused by the pandemic. The organisation's executive board also called a meeting, during which all project coordinators were requested to call previous staff to ask them to return to their home station for their safety and security.
In order to further safeguard the wellbeing of CMC Nepal's own team, a psychologist was assigned to work on a rotational basis every two weeks. Indeed, the pandemic has had some negative impacts on the wellbeing of the team, so making sure that they checked in with each other and ensuring staff access to professional support has been very important. As staff are no longer required to go into the office to work, online weekly project team meetings were set up, where any issues at hand could be discussed and decisions could be made collectively.
As part of the response activities, a tele counselling service was established, consisting of 10 members of the team with diverse expertise (mental health experts, psychiatrists, psychologists and senior counsellors), whose contact details were circulated to different groups that might benefit from this support, including other NGOs. All staff members are also in the process of receiving training in Psychological First Aid (PFA). Further, a toll-free number was obtained after one month of lockdown and psychosocial service was provided regularly.
CMC-Nepal has also been working on contextualising existing COVID-19 resource materials to the Nepalese setting for distribution to other organisations, and developing COVID-related MHPSS messaging to share on television and radio networks to strengthen community resilience. The team has also been communicating and collaborating closely with the government; as an organisation, they have had a seat at the table alongside UN agencies in the health and education clusters during this time.

What were the enablers?

In this process of adaptation, communication amongst the team has been crucial, particularly at the start of the pandemic. Despite the complexity of the situation, the circumstances have brought a greater awareness of the importance of mental health care to the government - last month, for example, the key leaders and health officials of the Karnali Province decided to allocate a budget to training health workers and teachers as master trainers to be able to provide PFA and stress management sessions at the community level.
CMC-Nepal is hopeful that this pandemic will have a silver lining for them - the government may begin to prioritise MHPSS and integrate it into other sectors dealing with issues such as education, migration or gender-based violence, creating a more enabling environment at the national and policy level for CMC-Nepal to operate. They may also be able to increase their capacity with regards to human resources and thus provide more support to the government in the future.